Card Center
Control Your Cards with Card Companion
Customizable credit and debit card controls and real-time transaction alerts are now available in our Mobile Banking App. Log in to our Mobile Banking app and follow the easy steps to download the Card Companion App.
Once downloaded, you'll be able to access card alerts and controls from either the PremierOne Credit Union Mobile Banking app or via the Card Companion App, all with your existing username and password.
Card Companion Service Benefits:
Protect Yourself
Track Card Use
Set Limits
Watch this quick video to learn more!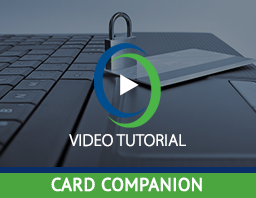 Make your card uniquely yours!
Now you can have your favorite image on your PremierOne debit and credit card by uploading your image online and carry the card that's uniquely yours!
Personalizing your card is easy!
Review guidelines for images and approval process
Select your image
Upload your favorite image
Next, within one business day you will receive an email from the credit union approving your image. Once you have received the email approval of your image, visit your nearest branch and request your custom image card to be created.
Review Guidelines Get Started! Upload your ImageFAQs
PremierOne Credit Union reserves the right to determine, in its sole discretion, whether a submitted image will be accepted or rejected. All images submitted must have the consent of the owner including those images downloaded from the internet. Please review our guidelines available here. ATM cards are not available for personalization.
Cardholder Alert Process for Suspicious Card Transactions
For your security and convenience, PremierOne Credit Union can now notify cardholders of suspicious card transactions by voice phone, email and text.
Texts will be sent from number 37268 and will display PremierOne CU's name and the credit union's Card Fraud Centers 24-hour toll-free phone number.
You will be asked to reply YES or NO to the card transaction message. Receiving these texts is absolutely free, and you can opt-out at any time.
We remind you that the Credit Union will never request your social security, loan number or credit card number by text. Please contact us if you have any questions.
Report a Lost or Stolen Card
Please call us at 1.855.500.7128 (P1CU) with any questions you may have regarding a dispute or suspicious activity on your account. Our Call Center hours of operation are Monday - Friday between 8:00 AM and 5:00 PM PST. To report a Lost or Stolen VISA® Credit or Debit Card, call 1.855.500.7128 (P1CU) available 24 hours a day.
If You are Traveling
Please contact us if you are planning to travel and will be using your PremierOne Visa® Credit, Visa® Debit, and/or ATM Card. You may call 408.524.4500, 1.855.500.P1CU (7128), or send an email through your eBranch account. Please include your travel dates and destination(s) in your notification to the Credit Union.
Prevent Fraud
In an effort to prevent plastic card fraud, we monitor transactions 24/7 to identify suspicious activity. If we are unable to reach a cardholder to confirm activity, a block will be placed on the card. Please be sure to keep your phone numbers, email address, and mailing address updated should the Credit Union need to contact you for any reason.
Cardholder Item Dispute
You may be contacted by PremierOne CU for additional information in order to process your dispute. It is important to document any and all communication with the merchant involved in your dispute. Please attach additional documents related to your dispute as needed, such as copies of emails, receipts, letters, etc. For security reasons, please do not email completed forms.
Card Item Dispute Processing
Upon receipt of your completed dispute form and any required additional information, a provisional credit will be provided in the time frame specified. The disputed transaction(s) will be investigated, and if proven to be valid, the provisional credit will be reversed. You will be notified of the date and reason for reversal of a provisional credit. Please visit the Disclosures page and refer to our Membership Agreement & Disclosures for additional information regarding card transaction dispute rights and liability information.
Chip Card- Enhanced Security for your Credit Card
PremierOne Credit Union offers debit and credit cards with chip technology. The embedded computer chip provides more security and wider international acceptance.

A microchip embedded in the card adds a new layer of protection against fraud for purchases made at the point of sale. Information programmed into the chip is personalized for your account and each transaction generates a unique code, adding an extra safeguard against unauthorized use and counterfeiting. These cards are already in wide use around the world and are now becoming the standard in the U.S. For more details and Frequently Asked Questions, click here.
Convenient Instant Issue Card Service!
You can now get your new/ replacement debit or credit card instantly at all PremierOne Credit Union locations. Cards are issued on the spot, active and ready to use. Visit any of our branches and start using your card today!
Visa® PayPal
Make it Visa® When You Pay with PayPal!
NEW! You can now make your PremierOne Credit Union Visa Card your preferred payment method when you check out with PayPal.
Visa® Uber
Turn everyday Spending into Uber credits!
Make purchases at local shops and restaurants with an eligible PremierOne Credit Union Visa card on your Uber account, and you will earn Uber credits automatically.
uChoose Rewards®
Our uChoose Rewards® rewards you for being a member! Simply use your PremierOne Credit Union Visa Gold Card to make a purchase anywhere, and you'll earn points per dollar spent when you shop for everyday needs and more. Use your card at the participating retailers listed on the uChoose Rewards® website, and earn even more points!
Discover a new way to Shop, Earn and Redeem points with uChoose Rewards®:
Earn 500 Bonus Points* when you register your Visa® Gold credit card in uChooseRewards.com
No annual fee, No enrollment fee & No redemption fees
Earn points for everyday purchases
Redeem points for great rewards--including cash, merchandise, travel, gift cards, and activities!
Visit uChoose Rewards® website
*The 500 Card Registration Bonus will be credited to the account at the beginning of the month following registration, and is limited to the first card registering on an account. uChoose Rewards is a Registered Trademark of Fiserv, Inc.
5/1 ARM Mortgage*

2.50%
APR

15yr Fixed Mortgage*

2.250%
APR

More Rates